Nowadays, wigs are popular because of their ease of use and great advantages. Usually, those who wear wigs for any reason lose their hair. Others wear new clothes to give their hair a new look. There are all kinds of wigs on the market.
People who decide to buy wigs sometimes get confused about the difference between lace front wigs, 360 lace wigs and full lace wigs. Today we are going to talk about this.
The Difference Between Lace Front Wigs Vs 360 Lace Wigs Vs Full Lace Wigs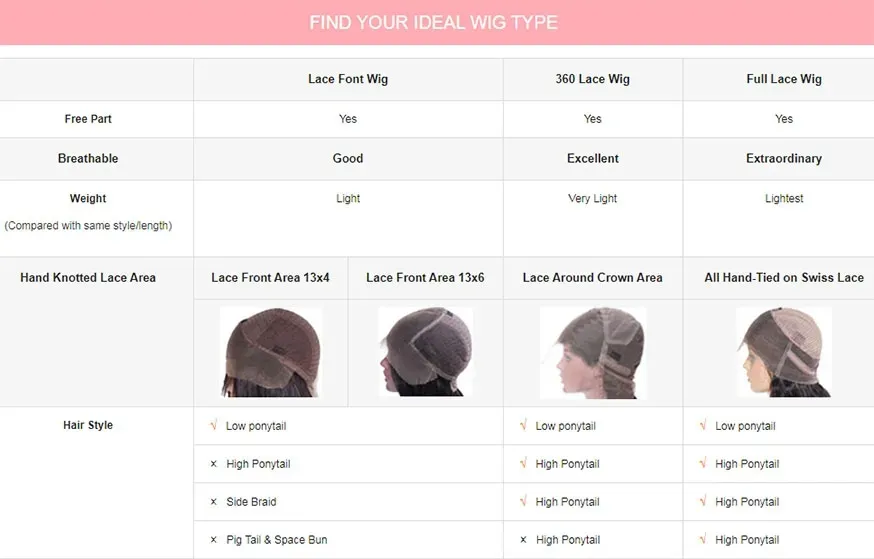 THE FRONT LACE WIGS
The lace front wig is the most practical hair wigs on the market today. It can be safe and sound and painless compared to other hair extensions. No unsafe chemicals are used for this, these are easy to wear and remove.
A lace front wig (this could be a human hair lace front wig, synthetic lace front wigs, silky straight lace front human hair wig, kinky straight lace front human hair wig, body wave lace front human hair wig etc), has lace that is usually 2 – 3 inches wide at the front, and the back of the wig is constructed like Traditional wigs, which are sewed into a strip of fabric by a machine, usually in the form of a mesh.
The lace front wig is usually glued to the front and has a strap that can be tensioned at the back and combed on the side to securely fasten it to the head. The selling price of these units depends mainly on the type of hair used and other key information such as type and length.
THE 360 LACE WIGS
360 Lace Front Wig Looks like the hair is growing from the scalp and looks more realistic. Do you want to wear your hair in a high ponytail without having to cover your edges? You can now do this with 360 lace front wig. It will give you a naturally beautiful flawless hairline that actually looks like your hair.
360 lace front wigs for sale are made by high quality 100% human virgin hair. 360 wigs are pre-sewed with 360 lace frontal and hair bundles, the wig is light and easy install, more important, it can be made in many hairstyles like ponytail or hair bangs. Original hair donated by the virgin girls, so the hair can be co-washed, permed or dyed. No shedding and no tangle. Natural hairline like human hair grows out from the scalp which can be parted in any direction.
THE FULL LACE WIGS
Full lace wigs such as colored lace wigs may also be an essential item for special characters in TV series and movies. A complete lace wig consists of a lace cap that covers the entire head and knots 100% of the human hair by hand. On the standard Remy Lace wig, there is a stretch of lace on the top of the crown that can be moved, such as hair growth below and head size changes.
However, if you want to create a complete lace wig, it is not very important, so the entire hat can be made of lace. This means you can create a parting anywhere you want, or you can wear the hair on the back side without detecting that you are wearing a wig.
This entry was posted in Hair Knowledge By African Mall