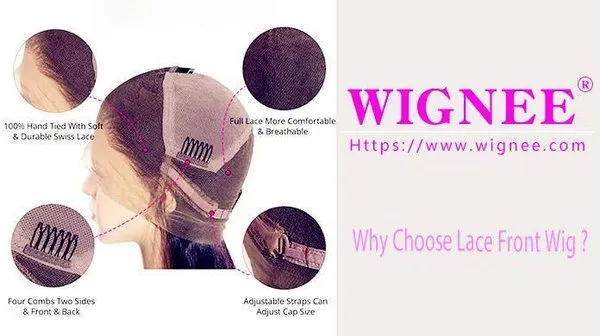 Lace front wigs is a special kind of wig made on transparent lace bottom. it is made into with human hair on the bottom of transparent lace. The bottom of the whole lace wig is lace, while the lace front wigs has transparent lace only where the hairline is obvious. The rest is made of non-fragile material, which is comparable to lace. No lace can withstand tearing. Lace wigs are the most expensive. Head covers should be glued to the human scalp and lasted moderately for a long time. For example, wearers can bathe, swim, and wear wigs to participate in intense sports.
Lace wigs are divided into full lace wigs or lace front wigs. They are made by professional technicians and hand hooks. It usually takes about 7 to 15 days to make them.
Maybe you ask why lace front wigs are better. Let us show you the reason.
1.Hairline
Lace Front Wigs with baby hairline make you more beautiful and natural. If you dont touch it, you wont know it is a wig.
2.Comfortable and soft
Lace front is easy to change different look, let you more charming and natural look. Pre-plucked Lace Front Wigs are more comfortable and soft.
3.Breathable
There are some lace on the front of the lace wig, it have a small hole, that hole make the wig more breathable.
4.Price
Compared with full face wigs lace front wigs are more affordable, which is a good choice for mass consumers. Full lace wigs price are a little expensive, but the whole head of the full lace wigs are lace, the permeability are much better than lace front wig.