Payment Policy
For international orders, the bank that has issued your credit/debit card determines the exact exchange rate that you will be charged.
The amount charged from the original Wignee Hair invoice purchased is returned when refunded by the seller.
Please note we cannot be held responsible for any discrepancies caused by exchange rate fluctuations. Payment Safety No card information is ever saved at Wignee Hair and it remains the private property of the cardholder at all times before, during, and after the product purchase.
Our transactions are mainly processed through PayPal, which is a secure payment method. They also accept some credit card payments.
You can use the PayPal express checkout to pay the order. You do not need a PayPal account to use their payment service.
In addition to PayPal checkout, we also support more professional credit card payment methods.
Faster, more comprehensive credit card support, and Higher payment success rate, which supports almost all credit card checkout, such as Visa, Master, Discover, etc.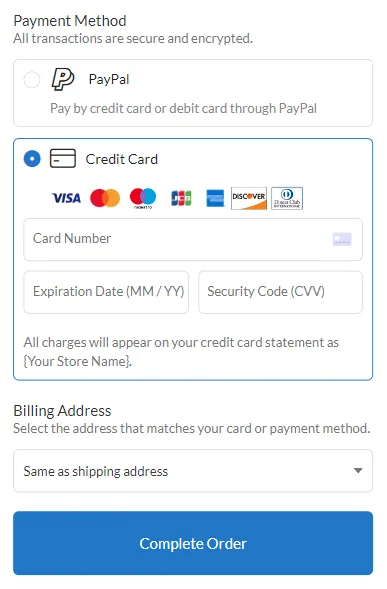 We at Wignee Hair take many active steps to ensure the absolute safety of your credit card and personal information.
In addition to processing all credit card sales via a fully secured and reputable third-party payment processor, your checkout experience is to protect your private data.
WIGNEE HAIR does NOT keep credit card information on record.
If you face any problem contact with us Mail - [email protected]
1. How to use PayPal Payment?
1), You have your PayPal account, then choose PayPal and log in to your PayPal account to complete the payment directly.
2), If you want to use PayPal, but don't have a PayPal account, please register one first.
Note: Choose the PayPal payment, you can choose your country's currency, we accept all the currency.
2. How to use PayPal Pay in 4?
The common instruction text for this service is "pay later", which is the official service of PayPal. The official policy link:
Buy Now, Pay Later | Pay in 4 Installment Payments | PayPal US
1), First, you must have your own PAYPAL account to use this service.
2), Start shopping, as usual, you can find the pay later button directly on the product detail page, click on it to use the service, or you can add your preferences and choices and then add one or more items to your shopping cart. Then go to your checkout cart.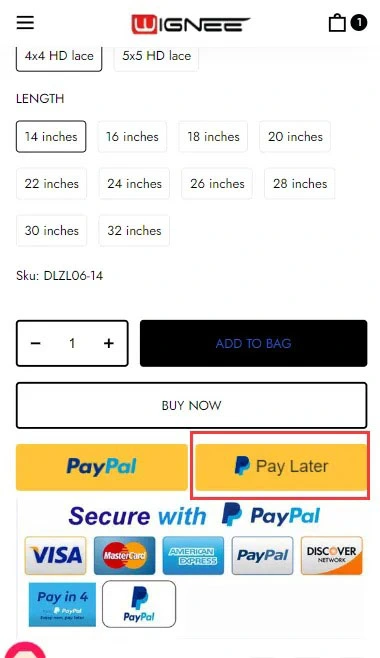 3), On the checkout page, choose PayPal as the payment method, you can also see the pay later button, click it to start using the service, note: Please make sure your shipping details are correct.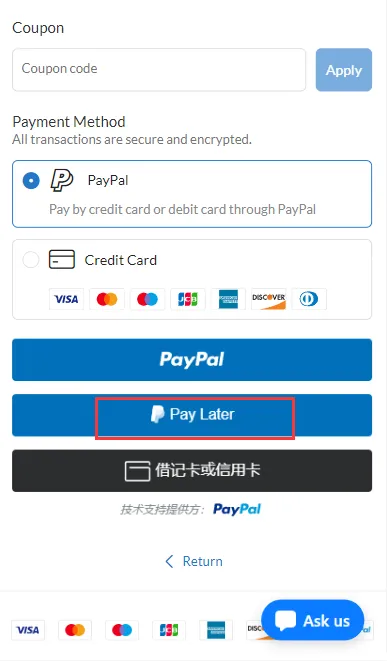 4), As soon as you do you can see exactly what your 4 payments will be and you will need to pay the first installment right away. If you like the amounts you will need to pay and you're okay with everything then click "Continue".
5), Then on the following page you will need to confirm your name, billing address, birthday, and mobile phone number, then "agree and apply".
Note: PayPal Pay in 4 allows you to buy now and pay later, all without interest or late fees, wherever PayPal is available. You can split your purchase into 4 interest-free payments with no late fees. There's no impact on your credit score. You can use Pay in 4 at merchants that accept PayPal payments in any supported currency. However, PayPal will automatically convert the purchase amount into U.S.dollars during the checkout process.
3. If l don't have PayPal, how to pay with a credit card or debit card?
1), Select your cart and click " check out". Fill in your shipping information and click " complete order".
2), ln the pop-up window, click on the location on the image below.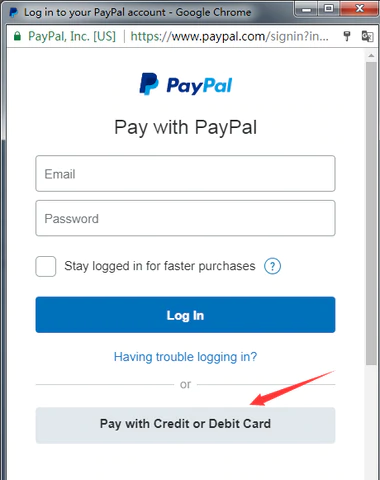 3), Choose your bank country.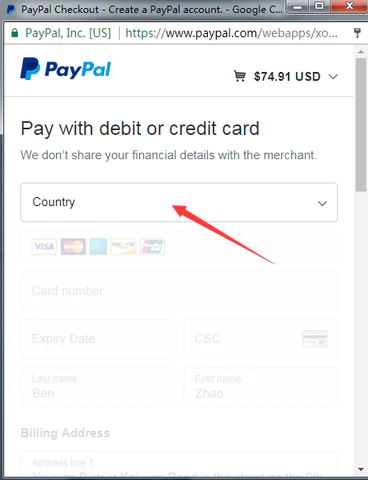 4), Now you can use a credit card to pay.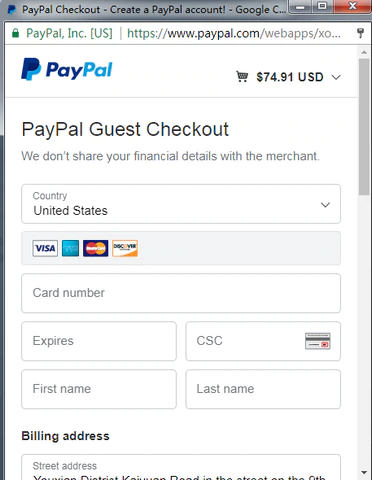 5), Last Tip:
Do you want to use this credit card to create a PayPal account? According to your needs, choose yes or no.
6), Successful payment.